REUSE WATER ON-SITE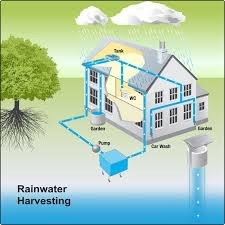 Rain water catchment has been around forever and is a great way to take your home rain water and store it in water tanks for later use.
Rainwater Harvesting is the collection and storage of rain for later use. It's an ancient practice and is still commonly used in many places
throughout the world. At its simplest a catchment system is of rain collected in a rain barrel from your homes downspout, to later be used
to water your plants and lawn. It has now evolved to various sophisticated sustainable systems and can now be collected and used for everything
from toilet flushing and laundry and with the correct filtration system even drinking water.
In this day and age of droughts and water meters; this is a real good thing.
At Adasak Mechanical we can help develop a system that will work for you; based on your needs and your budget. We are fully trained
and qualified and so excited about this new aspect of our business. If you want to find out more about Rainwater Harvesting,
give Darren a call now at 250-299-7383.